Are identity thieves targeting your institution to commit tax refund fraud?
The IRS and Department of Justice continue to struggle with criminals manipulating tax refunds, with stolen identities and mule recruitment primary methods for perpetrating this crime. Financial institutions play an important role in uncovering and reporting this activity.
Verafin alerts you to State and Federal tax returns that appear suspicious and provides automated SAR e-filing functionality to quickly and efficiently report your findings to FinCEN.
Stop identity theft
Tax refund fraud is often part of larger, more organized criminal schemes involving many types of illicit activities, including identity theft.
Expose hidden mule accounts
Today's sophisticated criminals are trying to avoid detection by opening or using mule accounts. Mule accounts are used to deposit and move the illicit proceeds of criminal activity, making them an important tool for fraudsters perpetrating tax fraud.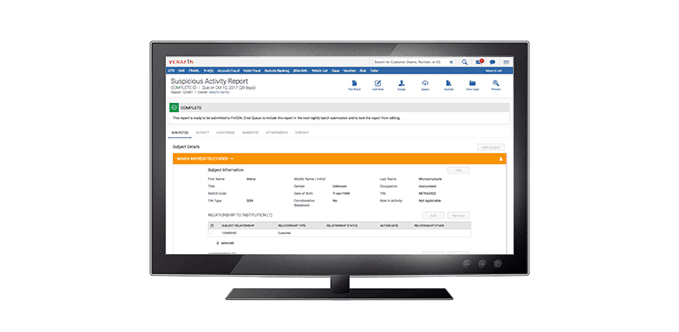 Efficient tax fraud reporting
With risk-rated excessive tax return alerts, fully integrated case management functionality, and automated SAR generation and e-filing, Verafin makes your process for uncovering tax fraud and reporting it to FinCEN significantly easier.