"Follow the money and you will find the trafficker… Financial investigation plays a crucial role in successful investigation of trafficking in persons."
An outstanding financial investigation which was conducted in the recent prosecution of a U.S. based human trafficking ring serves as strong testament to the above quotes from Toolkit to Combat Trafficking in Persons, an informative United Nations Office on Drugs and Crime (UNODC) publication.
This article presents select information about that human trafficking case including key aspects of a very thorough and comprehensive financial investigation completed by a District Attorney Investigator.
Case highlights and financial investigation charts reviewed in this article include:
Hierarchal structure of the criminal organization and roles of various members
Chart depicting 37 of the bank accounts at 7 financial institutions utilized by the human trafficking ring
Illustration of the flow of criminal proceeds
Chart depicting 6-step circular layering of funds across multiple financial institutions
Chart depicting money laundering technique used
Case Overview
A multi-agency team of investigators from local, state, and federal law enforcement agencies conducted a six-month investigation into the operation of this human trafficking ring. The investigation revealed a sophisticated network responsible for trafficking women for the purpose of commercial sex. The network was run much like a corporation.
A declaration by a detective from a Sheriff's Office stated that "the investigation revealed the human trafficking ring profits approximately $40,000 to $50,000 per month and had been operating for at least 4 years".
The Ringleader also had two shell business companies and he used those business accounts with regard to money earned from the sex trafficking services. That money was then used to buy property. At a news conference about this case, a spokesperson from a Sheriff's Office alleged the proceeds from the crimes were laundered through as many as 50 bank accounts at nine banks.
A declaration by a District Attorney Investigator noted a request to the Court to preserve the cash and real property assets believed to be organized crime proceeds currently under the control of the Defendants or purchased by the Defendants in a manner attempted to conceal their true source.
The $2.5 million subject to forfeiture was comprised of estimated values for:
42 bank accounts
a vehicle
three properties
Hierarchal Structure of the Criminal Organization
Although details for this court case have been published in the media, I will observe my standard practice of anonymizing the identities of persons, businesses and financial institutions in the synopsis below.
Figure 1 depicts the hierarchal structure of the criminal organization.
Roles of Members of the Criminal Organization
Head of Operation (the term Ringleader is also used interchangeably throughout this article)
The head of this organized crime group directed the conspiracy and attempted to insulate his involvement through the establishment of a hierarchal organizational structure. He earned significant profits as the head of the conspiracy which he used for his own personal benefit.
He attempted to insulate himself from law enforcement detection and from victim interaction by using a Dispatcher to interact with commercial sex customers via telephone and to send them to victims in various motels.
The Ringleader used his Sister to launder money from his organized crime ring in order to purchase real estate.
Dispatcher
The network's Dispatcher took calls from hundreds of men each month who were answering sexually explicit ads found on various websites. She negotiated sex with the men and directed them to motel rooms occupied by the victims. She coordinated the transportation and lodging of the victims at various motels and used Drivers to move victims to different motel locations.
The Dispatcher kept daily track of money earned by the victims for commercial sex services and personally benefited from the crimes. In some cases, the Dispatcher sent Drivers to obtain cash profits from victims and then deposit them into financial accounts she or the Ringleader controlled. In other cases, the victims were sent to financial institutions to make the deposits themselves into financial accounts the Dispatcher and/or Ringleader controlled. The Dispatcher would instruct victims on where to deposit cash earnings from commercial sex acts.
The Dispatcher routinely and consistently made whole dollar cash deposits into bank accounts under her control. She used bank accounts in her name for regular purchases to support her lifestyle. She also used them in furtherance of criminal activity. For example, she was known to place advertisements to attract customers to engage in commercial sex acts with the victims. She accessed the Internet in order to create, view and post these advertisements online.
A search of just two of the phone numbers used by the criminal organization revealed over 70 escort advertisements on various websites.
Head of Operation's Sister (laundered money from the operation)
The Head of Operation sent ill-gotten gains to his Sister which she used to purchase real property for him.
The Head of Operation's Sister worked as a sales person at a furniture store and pays income tax on meager wages. Despite existing at a lower income level, she purchased expensive properties including one cash purchase where she paid more than $600,000.
Drivers
The Drivers were responsible for transporting women between different motels and for maintaining the motel rooms.
The Victims
Law enforcement identified approximately 28 victims. All of the victims were identified as Chinese women in their 30s and 40s, who were in the country for a short time on what appeared to be legitimate visas. After arriving in the country, some of the victims relinquished their passports to members of the human trafficking organization.
The victims were expected to engage in commercial sex acts. They continuously incurred debt as they were forced to pay the Drivers for transportation between motels, motel room costs, food, and in some cases, the advertisements on the internet placed by the Ringleader and the Dispatcher.
Attempts to Conceal Illicit Profits
The operation earned significant illicit profits which they attempted to conceal from law enforcement by:
Placing the profits into financial accounts
Purchasing real property and a vehicle
Making deposits and withdrawals among dozens of financial accounts
Moving funds into and out of the United States
Funneling funds in and out of financial accounts belonging to various corporations
The Ringleader utilized co-conspirators to conduct financial transactions in 43 bank accounts in at least seven different financial institutions in the United States. Evidence obtained from financial investigations shows inconsistent signatures for cash deposits and bank surveillance video depicts deposits being conducted by female Asians believed to be victims of the conspiracy.
Some of these transactions took place in corporate financial accounts the Head of Operation created or managed in furtherance of the conspiracy.
Figure 2 illustrates some, but not all, of the numerous banks accounts and banks which were utilized by this human trafficking ring.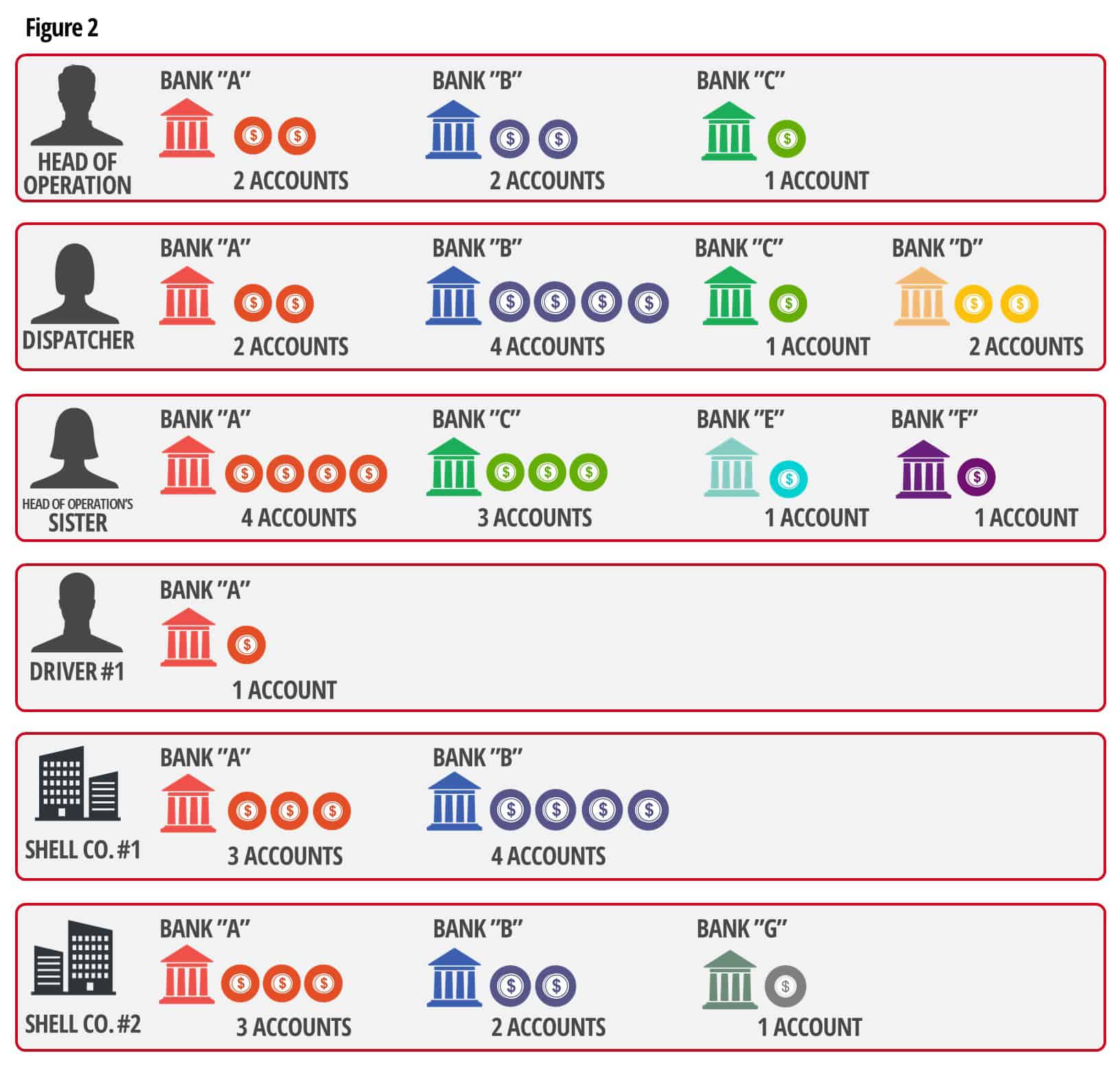 Flow of Human Trafficking/Prostitution Criminal Proceeds
"It is evident at the conclusion of this investigation that many financial transactions were done with the specific intent to hide the true origin of the money and to give the appearance the money in question was lawfully obtained." (statement from declaration of District Attorney Investigator)
Victims and co-conspirators were instructed to make deposits into various business accounts in the name of Company #1 and Company #2, corporations under the control of the Head of Operation and the Dispatcher.
Figure 3 depicts some aspects of the money flow in this operation.
Money flowed:
from Company #1 to the Head of Operation directly
from Company #2 to the Dispatcher, the Head of Operation, and the Head of Operation's Sister (who laundered money)
between the Dispatcher, the Head of Operation, and the Head of Operation's Sister who purchased real property with money she obtained
between the Dispatcher and the Head of Operation
An advertisement for Company #1 which was translated from Mandarin to English was for a "study abroad center" and provided a "reservation hotline" and a "one stop group study abroad and immigration services".
Documents for Company #2 indicated that the Dispatcher owns 90% of the partnership and the Head of Operation owns 10%.
Other documents indicate the Dispatcher being employed by Company #1.
Official records for Company #1:
identified it as a "consultant company"
listed the Dispatcher as the Chief Executive Officer
listed Company #2 as one of the managers
Official records for Company #2:
identified it as a property management company
listed the Head of Operation as corporate officer
The Head of Operation's Sister 6-Step Circular Layering of Funds Using the Dispatcher
Figure 4 depicts the layering of money between the Dispatcher and the Head of Operation's Sister across multiple financial institutions over a period of two months.
Money Laundering Technique
Figure 5 details a laundering technique used by the criminal organization.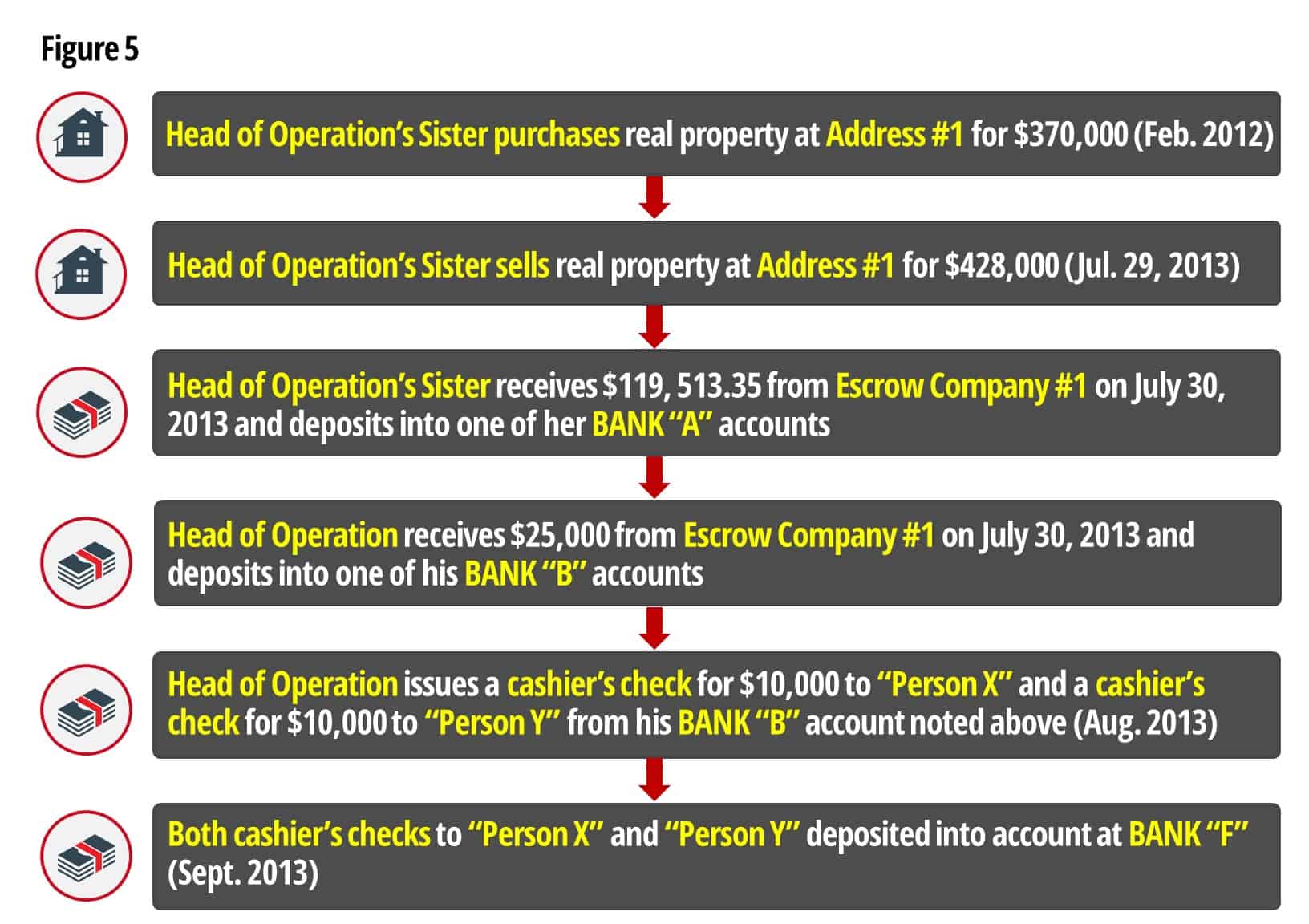 Important Takeaway for Financial Crime Investigators
"It would be virtually impossible to establish and manage an organized trafficking network without creating audit trails in one or more of the following areas: advertising, rentals, transportation, communications and financial transactions." (Source: UNODC Toolkit to Combat Trafficking in Persons)
27 Financial Red Flags Compiled by the "Bankers' Alliance Against Trafficking"
Information on red flag indicators can be found in my article titled Thousands of Human Trafficking Arrests in the U.S. Plus Recent Money Flow to Human Smuggling Hubs.
That article highlights the prevalence of human trafficking in the U.S. and provides a detailed list of 27 Financial Red Flags which were produced by the "Bankers' Alliance Against Trafficking" and shared with the industry to help identify and report irregularities in financial transactions that might be linked to human trafficking activity.
Verafin is the industry leader in enterprise Financial Crime Management solutions, providing a cloud-based, secure software platform for Fraud Detection and Management, BSA/AML Compliance and Management, High-Risk Customer Management and Information Sharing. Over 3500 banks and credit unions use Verafin to effectively fight financial crime and comply with regulations. Leveraging its unique big data intelligence, visual storytelling and collaborative investigation capabilities, Verafin significantly reduces false positive alerts, delivers context-rich insights and streamlines the daunting BSA/AML compliance processes that financial institutions face today.