"Narcotics traffickers will attempt to create elaborate financial networks in an effort to launder illegal drug proceeds."

(James Dorsey, Acting Special Agent in Charge IRS Criminal Investigation, June 2017)
Heroin Trafficking Organizations Targeted by OFAC
In May 2017, Treasury Secretary Steven Mnuchin stated that OFAC was targeting a Drug Trafficking Organization leader "under the Kingpin Act because he and his drug trafficking organization are major contributors to our nation's heroin epidemic." Mnuchin issued his statement when the U.S. Department of the Treasury's Office of Foreign Assets Control (OFAC) designated this Drug Trafficking Organization (DTO), which it characterized as a "heroin production and distribution organization that smuggles multi-kilogram heroin quantities into the U.S.", as Significant Foreign Narcotics Traffickers pursuant to the Foreign Narcotics Kingpin Designation Act.
In April 2016, when OFAC designated another Heroin Trafficking Organization as Specially Designated Narcotics Traffickers, OFAC's Acting Director expressed a similar sentiment that this DTO was "responsible for contributing to the drug epidemic and troubling rise of heroin abuse in this country."
My objective in sharing this article is to emphasize to financial institutions that they can make a valuable contribution to helping combat the current fentanyl, heroin, and other opioids epidemic by exposing the money trail of illicit proceeds generated by DTO operations in the United States. The financial information outlined below proved crucial to support the numerous money laundering charges in the indictment of one of the above noted heroin trafficking organizations and illustrates how this DTO exploited multiple U.S. banks.
This article presents a series of detailed diagrams that outline various aspects of the Heroin Trafficking Organization's banking activities at multiple U.S. banks as well as other financial highlights from court documents.
Visualizations include charts with granular details that:
Depict how 42 of the funnel accounts used by 18 individuals were spread across 4 major U.S. banks
Illustrate cash deposit activity for the principal money launderer and other DTO members
Map activity for several DTO members showcasing bank deposits from illegal drug sales made in various U.S. states and withdrawals in different states during the same time period
Present the role of a DTO member's "company" and related business account transactions
Show how some DTO members transferred money from their accounts to other members' funnel accounts which subsequently funded wires to the DTO leaders in Mexico
Provide details for numerous bank wires from a dozen funnel accounts held at multiple U.S. financial institutions to the DTO leaders and their associates in Mexico
37 Members of DTO which Imported More Than 1,000 Kilograms of Heroin into the U.S. Indicted for Variety of Narcotics and Money Laundering Charges
This DTO had been involved in the manufacture, importation, and distribution of heroin from Mexico to the United States as well as the laundering of drug proceeds from the United States to Mexico since 2008.
In May 2015, a Grand Jury returned a Superseding Indictment charging the DTO leaders (two brothers) and 35 other members of their Mexico-based drug trafficking organization with a variety of narcotics and money laundering charges in connection with the DTO's importation of more than 1,000 kilograms of heroin into the United States.
Use of Various Concealment and Smuggling Techniques
Concealment and smuggling techniques included shipments of multiple kilograms of heroin in car batteries, car bumpers, concealed vehicle traps, and in sealed fruit and vegetable cans.
The DTO leaders arranged for the manufacture and production of car batteries in Mexico containing concealed compartments to hold multiple kilograms of heroin which were used to import heroin into the U.S.
The DTO leaders also arranged for the production at a cannery in Mexico of metal fruit and vegetable cans which were filled with cylindrical shaped quantities of heroin, sealed, and then used to import heroin into the U.S. by couriers who were hired and paid by the DTO leaders.
Analysis by Senior Financial Investigator with DOJ Organized Crime Drug Enforcement Task Force
The case highlights noted below were outlined in information compiled by a Senior Financial Investigator with the Department of Justice (DOJ) Organized Crime Drug Enforcement Task Force (OCDETF).
DTO utilized approximately 60 bank accounts and 26 individuals to launder approximately $4,036,191 in drug proceeds from the U.S. to Mexico.
Investigation identified $3,242,927 in cash deposits that passed through the accounts.
Approximately 924 transfers by a global payment services provider totaling $778,514 to various individuals in Mexico and 42 bank wire transfers totaling $1,104,000.
Total cash deposits, bank wire transfers, and payment services provider wires was $5,125,441.
DTO leaders instructed individuals to open bank accounts, primarily in IL, TX, FL and NC.
DTO's distribution network in Philadelphia deposited cash into accounts identified by the DTO leaders.
After deposits were made in Philadelphia, funds were either withdrawn in IL, FL, TX or NC and converted to structured payment services provider money orders and then wire transferred to Mexico, or were wire transferred directly from the U.S. bank accounts to accounts in Mexico.
On numerous occasions, withdrawals were made the same day the deposits occurred.
None of the individuals who opened the accounts had any connection to the Philadelphia area.
Accounts were used strictly as "funnel" or "pass through" accounts to launder the DTO's proceeds.
Funds withdrawn in TX were either converted to payment services provider money orders and sent to various individuals in Mexico, and/or bulk delivered to the DTO leaders in Mexico.
DTO leaders provided the recipient names to be utilized for the payment services provider transfers and bank wire transfers.
Some individuals also obtained ATM/debit cards which were sent to Mexico and used to withdraw funds there.
The information presented below in figures 1 to 5 is simply meant to serve as a representative sample of the DTO members' various banking activities. The transactions noted in these summary charts reflect just a small fraction of the abundant details outlined in the indictment.
60 Funnel Accounts and 26 Individuals Used to Launder Millions in Drug Proceeds from the U.S. to Mexico
Figure 1 shows the breakdown of 42 funnel accounts that were opened by 18 perpetrators at 4 U.S. financial institutions to facilitate the movement of illicit drug proceeds generated by the DTO. This chart only reflects about two-thirds of the total number of funnel accounts used.
A few interesting notes with regard to the partial list of accounts depicted below:
4 of the 9 accounts held by Individual "A", the DTO's principal money launderer, were opened using an alias
Some account holders had family relationships with other DTO members – e.g. Individuals "D" and "B" were husband and wife; Individuals "K" and "R" were mother and son
Some accounts were joint accounts with other DTO members – e.g. Individual "I" had joint accounts with one of the DTO leaders (DTO Leader 2)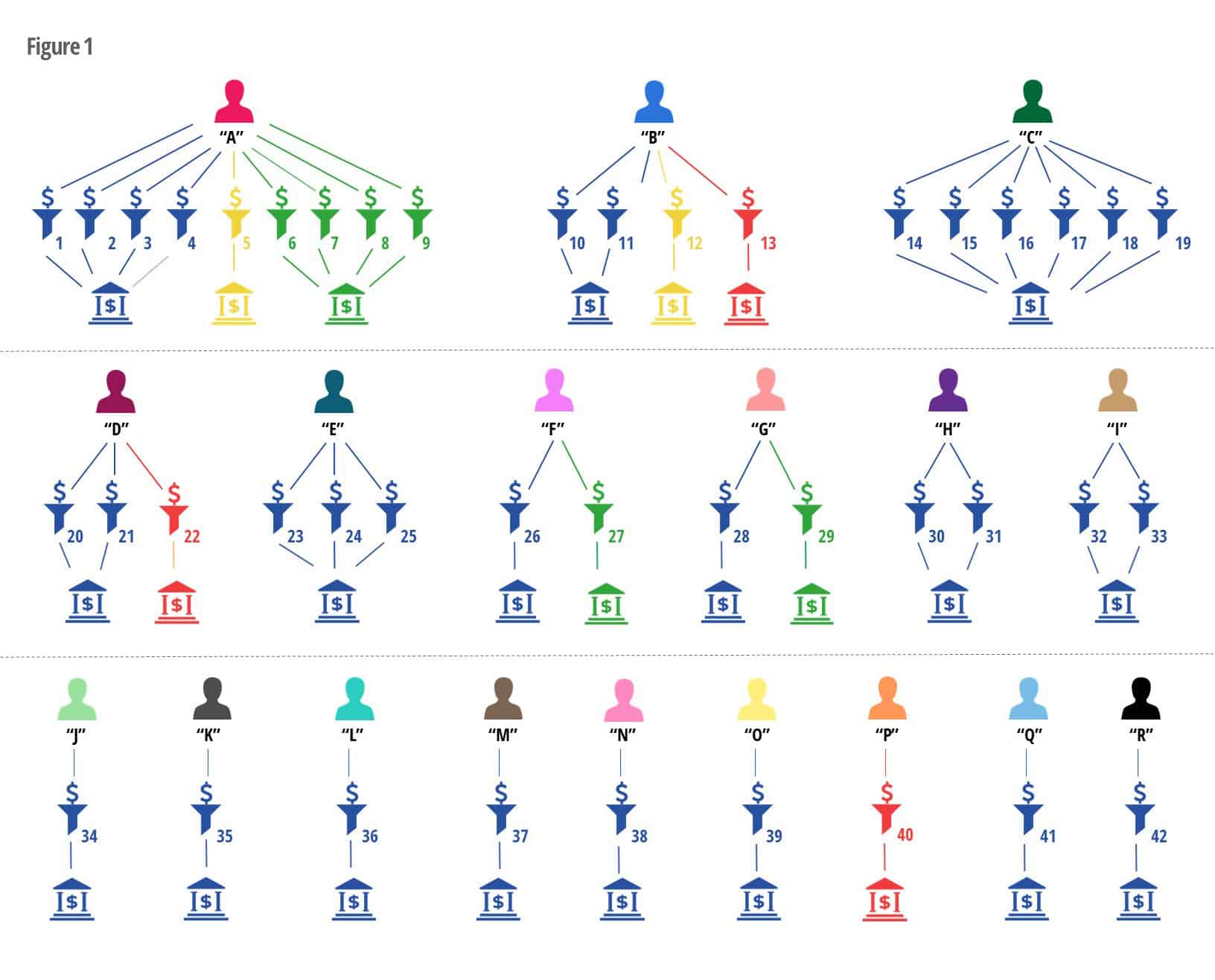 Example of Financial Activity for Several DTO Members
Figures 2(a), 2(b), and 2(c) outline sample activity for funnel accounts held by various DTO members.
The sample activity depicted illustrates:
Cash deposits made in multiple states
Deposits made at multiple financial institutions
Deposits and withdrawals using multiple accounts at the same FI
Withdrawals made in different states from the states of deposits in the same time period
Bank wire transfers to DTO leader in Mexico
Bank transfers between U.S. based DTO members which subsequently funded wires to DTO leader in Mexico
Example of Cash Deposited into Accounts Held by Principal Money Launderer and Another DTO Member
Figure 3 shows a sample of cash deposited into the DTO principal money launderer's accounts (sample illustrates more than a million dollars) as well as cash deposited to accounts held by another DTO member.
Role of One Member's U.S. Based "Company"
Figure 4 lists sample transactions for a DTO member's business account and briefly describes the role of his "company" in the DTO operations.
Example of Bank Wire Transfers to Mexico
Figure 5 showcases sample bank wires from several funnel accounts to the DTO leaders or their associates in Mexico.
The sample illustrates more than a million dollars sent via numerous wire transfers from multiple U.S. banks.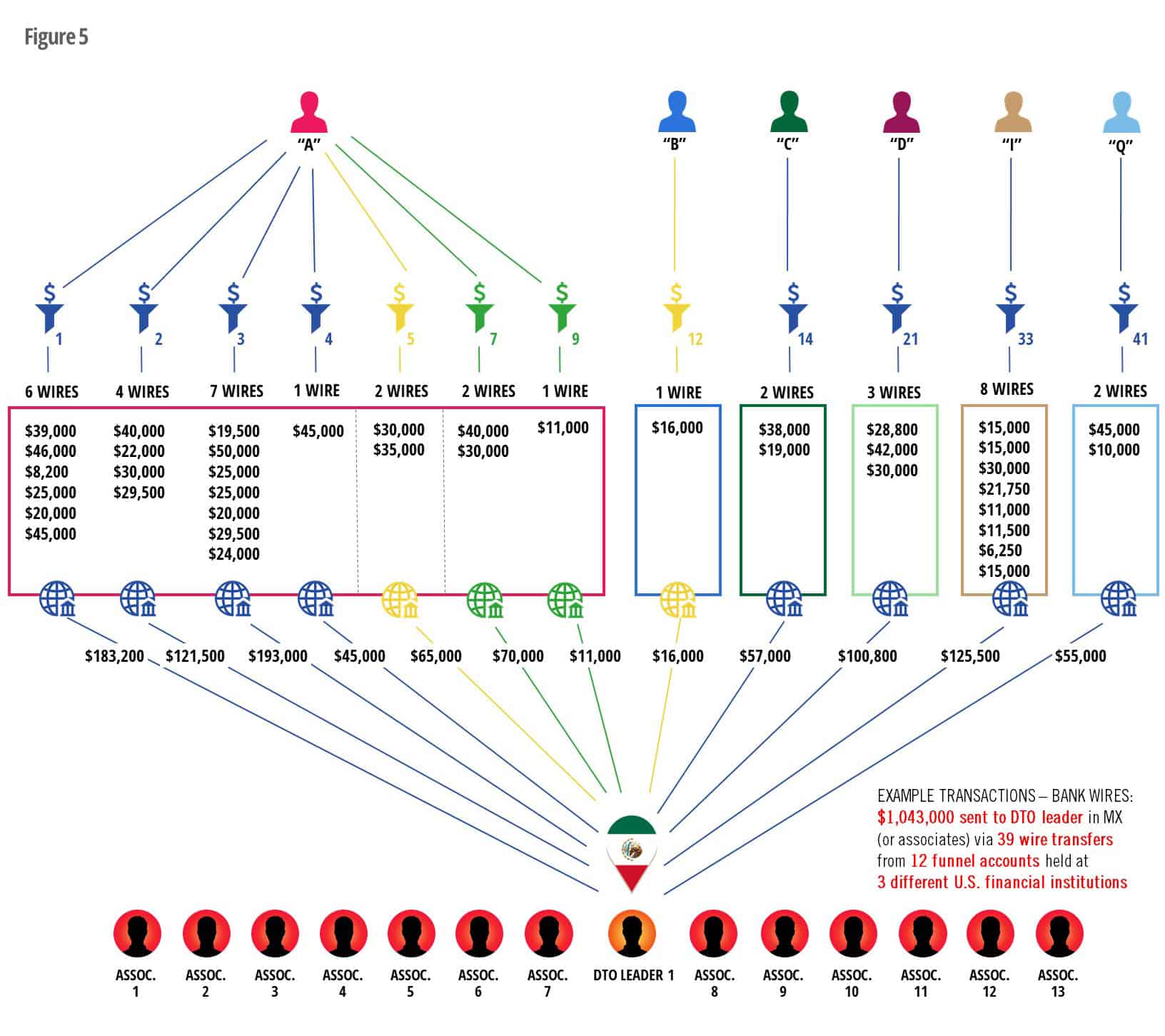 Red Flags Indicators for Funnel Accounts
"Among the various methods Cartels use to transfer and launder their illicit proceeds are bulk cash smuggling, Trade Based Money Laundering, funnel accounts and professional money launderers, and misuse of Money Service Businesses (MSB) and emerging payment systems.

The Cartels exploit vulnerabilities in the financial system and conduct layered financial transactions to circumvent regulatory scrutiny."

(Matthew Allen, Assistant Director, Homeland Security Investigations, Congressional Hearing – A Dangerous and Sophisticated Adversary: The Threat to the Homeland Posed by Cartel Operations, Feb. 2017))
The case example outlined above illustrates how this heroin trafficking organization used funnel accounts as a method to transfer and launder their illicit proceeds in an attempt to circumvent regulatory scrutiny.
Information on red flag indicators for funnel accounts can be found in my article titled 12 Red Flags for "Funnel Accounts" Used to Launder Money.
Verafin is the industry leader in enterprise Financial Crime Management solutions, providing a cloud-based, secure software platform for Fraud Detection and Management, BSA/AML Compliance and Management, High-Risk Customer Management and Information Sharing. Over 3500 banks and credit unions use Verafin to effectively fight financial crime and comply with regulations. Leveraging its unique big data intelligence, visual storytelling and collaborative investigation capabilities, Verafin significantly reduces false positive alerts, delivers context-rich insights and streamlines the daunting BSA/AML compliance processes that financial institutions face today.