"E.O. 14067 recognizes that digital assets may pose significant illicit financing risks and commits the U.S. government to mitigating these and any other national security risks." 1
While the use of digital assets such as convertible virtual currencies continues to grow on a global scale, bad actors are increasingly turning to this new channel, increasing fraud and money laundering threats associated with cryptocurrencies. In response, there are new, challenging regulatory requirements that crypto companies must address to meet growing compliance demands.
 The U.S. government recently issued directives to strengthen regulatory compliance requirements pertaining to virtual currencies. In March 2022, President Biden issued Executive Order (E.O.) 14067, "Ensuring Responsible Development of Digital Assets," which outlined the U.S. government's approach to the threat posed to the U.S. economy by digital assets such as cryptocurrency.  The U.S. Department of the Treasury issued a subsequent  "Action Plan to Address Illicit Financing Risks of Digital Assets," addressing the significant illicit financial risks posed, while identifying seven priority actions to mitigate those risks to the U.S. economy.  
In October 2022, the Secretary of the Treasury published three reports to address priorities laid out in E.O. 14067:
Illicit Financing and Digital Currency: A Growing Threat
2
"The United States will continue to monitor the development of the digital assets sector and its associated risks to identify any gaps in our legal, regulatory, and supervisory regimes." 3
Virtual currencies are increasingly used in money laundering schemes, terrorist financing, and payments fraud schemes. Bad actors can transfer virtual assets without the involvement of a regulated financial entity, and virtual assets can transfer large amounts of value across borders very quickly. Through Peer-to-Peer (P2P) transactions, users can send virtual assets to beneficiaries regardless of geographic borders, limited only by the beneficiaries' possession of a virtual asset address and internet-capable connection.
Key illicit financing risks associated with virtual assets include: 
Gaps in implementation of the international AML/ CFT standards across countries

Use of anonymity-

enhancing technologies

Lack of covered financial institutions as intermediaries – and thus the absence of AML/CFT controls – in some virtual asset transactions

VASPs that are non-

compliant with AML/CFT and other regulatory obligations
Crypto companies need to be prepared to respond to these evolving threats, while protecting their organizations and their customers.
Seven Priorities of the U.S. Department of the Treasury Action Plan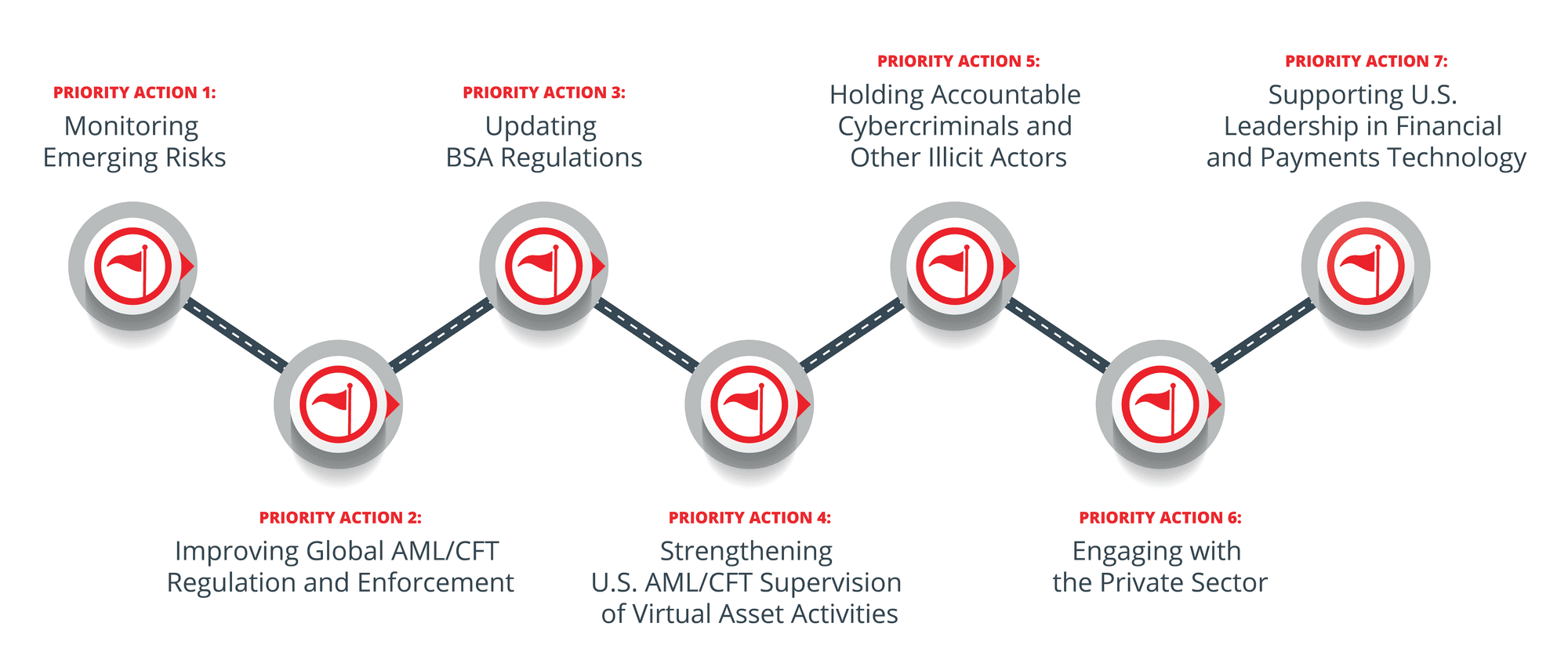 Informed by the threats, risk, and vulnerabilities associated with digital assets, the USDT Action Plan outlines seven priority areas, as follows: 
Priority Action 1: Monitoring Emerging Risks

 

Priority Action 2: Improving Global AML/CFT Regulation and Enforcement

 

Priority Action 3: Updating BSA Regulations

 

Priority Action 4: Strengthening U.S. AML/CFT Supervision of Virtual Asset Activities

 

Priority Action 5: Holding Accountable Cybercriminals and Other Illicit Actors

Priority Action 6: Engaging with the Private Sector

 

Priority Action 7: Supporting U.S. Leadership in Financial and Payments Technology

 
The Action Plan provides a roadmap to guide crypto companies for upcoming changes to their AML/CFT programs.
Implementation of these priorities means crypto companies will need effective and efficient financial crime management solutions to avoid financial losses and reputational damages. As the regulatory landscape evolves, crypto companies could be challenged to keep up with necessary compliance obligations, posing a risk to their business with increased demands on resources. 
The Need for Efficient AML/CFT Compliance Platforms
Aligning with AML/CFT priorities will prove challenging for crypto companies who currently rely on siloed and manual solutions. Many crypto companies use disparate systems to handle AML/CFT requirements; some companies employ several different systems to handle reporting and compliance tasks. For more effective AML programs, crypto companies should consider an AML/CFT solutions that includes suspicious activity monitoring both on and off the blockchain, streamlined case management, and behavior-based risk management. 
Verafin's Anti-Financial Crime Platform for Crypto Companies offers the world's only all-in-one solution including transaction monitoring, case management and regulatory reporting. With 20 years of experience, Verafin has in-depth experience assisting financial entities to adapt and evolve to meet new or changing compliance obligations. Our complete solution encompassing blockchain and fiat transaction monitoring, as well as behavior-based analytics, can protect your crypto company and your customers from potentially suspicious activity, as well as reputational and compliance risks. Verafin offers integrated case management to facilitate complex investigations that cross fiat and crypto transactions, and streamlines reporting with automated SAR/STR completion and e-filing.
Evolving regulatory expectations are placing growing demands on crypto compliance. To learn more about Verafin's Anti-Financial Crime Platform for Crypto Companies, download our Fact Sheet. 
With the world's only all-in-one Anti-Financial Crime platform for Crypto Companies, Verafin provides a full fiat-to-blockchain view of cryptocurrency activity to monitor and investigate both on-chain and off-chain risk. Verafin's holistic solution offers the investigation tools, case management and regulatory reporting capabilities critical to increasing the efficiency and effectiveness of crypto compliance programs.

Verafin, a Nasdaq company, is the industry leader in Financial Crime Management providing a cloud-based platform for AML, Fraud Detection and investigative Case Management. An all-in-one crypto compliance offering, Verafin supports complex investigations, enables robust transaction monitoring and improves efficiency of compliance processes. Its multi-chain visual investigation tools help streamline case investigations and trace the flow of funds across both cryptocurrency and fiat networks.